Bren started Apex Performance over 10 years ago and was one of the first companies to offer affordable parts to the 200sx owner like Intercooler kits, Exhaust Manifolds and Coilovers. They are now the official UK distributer for Ksport and BC Racing amongst others and now cater for all makes and models of car but still keeping the 200sx close to their hearts
Bren and Apex have been very active members of the club over the years donating prizes to charity raffles and offering assistance at events like TOTB. They previously entered 2 yellow S13s into Time Attack as well as a V8 R33 in EDC where it finished 2nd in 2008.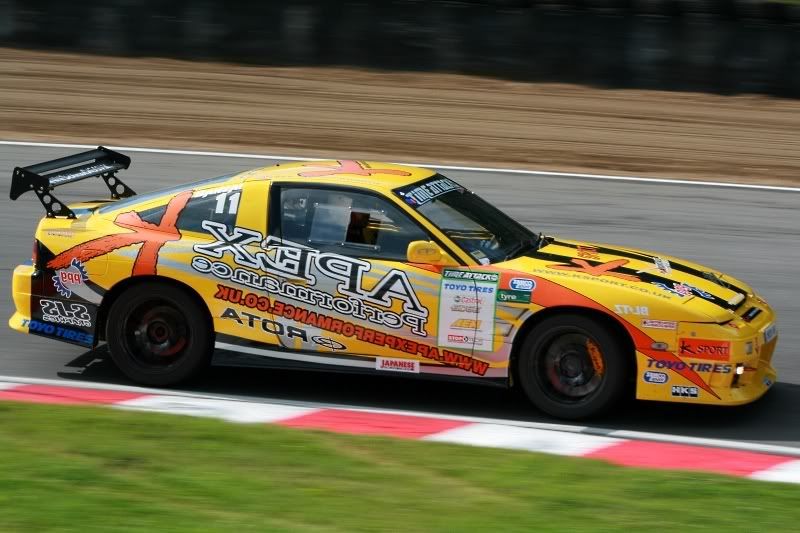 You can contact Bren and the Apex team on 01274 683633 or their forum section http://www.sxoc.com/vbb/forumdisplay.php?30-Apex-Performance-Parts
Alternatively check out their sites
http://www.apex-performance.co.uk/
So the weekend that was. After the success of previous Weekenders there were some big shoes to fill to ensure the ongoing success and growth of the event. This year we were at the fabulous Anglesey race track in North Wales. The weather in the run up to the weekend was great and didn't disappoint when we invaded.
After the frivolities of Friday night arrival and a quiet drink, we awoke to glorious sunshine on Saturday morning. As the cars lined up for their sighting laps, we were GO!!!!
The day passed almost entirely without incident on track and everyone, novice and track veteran alike, had a great day. Few notable highlights were Ken trying to set fire to his car (a power steering fluid leak dealt with quickly and expediently by the marshals) and Anthony Rickson (aka Giblets), in his mental Westfield, trying to kill the yours truly!!! Other track antics to note were a certain black S14a who had obvious 'issues with grip' as he spent a large portion of the day sideways with smoke billowing off his tyres, and a certain MR2 driven by what we can only assume was a blind hooligan. But most importantly everyone had a ball and the marshals were delighted by the driving standard and track etiquette.
That leads us onto the Saturday night. First off , the team competitions. Algie had organised it's a knockout style competition for some prizes. As usual everyone got into the spirit of the evenings entertainment and got stuck in. Later in the evening in true SXOC fashion, we partied and we partied hard. Smoke machine, laser show, cocktail bar, live DJ set, naked dancing, streakers and general banter. Everyone had a ball, got involved and had a laugh.
Sunday morning/afternoon and it's chillout time Sundays are always seen as a relaxed slower paced day and with the beautiful scenery and sunshine everyone was in great spirits and had a smile on their face (or maybe still a little drunk??). As usual we had our charity raffle on the Sunday, which raised £570 for race to recovery. This was only made possible by the generous support of our traders and all those who donated prizes which could only be matched by the generosity of the members who bought tickets.
For those who travelled farthest or have been doing this longest the traditional Sunday nights are a good time to catch up and chill out to a camp fire and some music. The usual suspects (and antics) ensued and it capped off a memorable weekend. We all headed home on Monday with some epic memories of a smashing track, a fabulous track day and as usual night time activities, which always leave an indelible impression. If you don't mark 2014′s event on your calendar as a must do, you're an idiot! See you there!!!
Thanks to all who helped make this happen and to my lovely wife for all her help and support!!!!
The honours
Trophies went to…
Best S Body awards
1. Mapboy for his stunning Sil80 – The attention to detail!
2. LED Sandwich for his beautifully turned out RS13 200SX
3. Jon for his daily driven 210k S14. A real testament to the marques durability and how to make it work for you.
Best Non-S Body Award
Giblets' Westfield
Chairman's Choice
Clive's V8 powered S14 drift car
Court Jester
Legendary Giblets for outrageous drunken behaviour in the face of common sense
Stig Of The Weekend
Kieran O'Quick for pushing his almost standard S14a to its limit all day.
Full features on all the trophy cars coming very soon to these pages!
After the downtime of the Christmas period there's only one way to get us firing on all cylinders again: our annual trip to Autosport International! Every January our visit to the Birmingham NEC proves to be the perfect way to kick off the new year and get us motivated for the long season ahead. This year's show was certainly no different!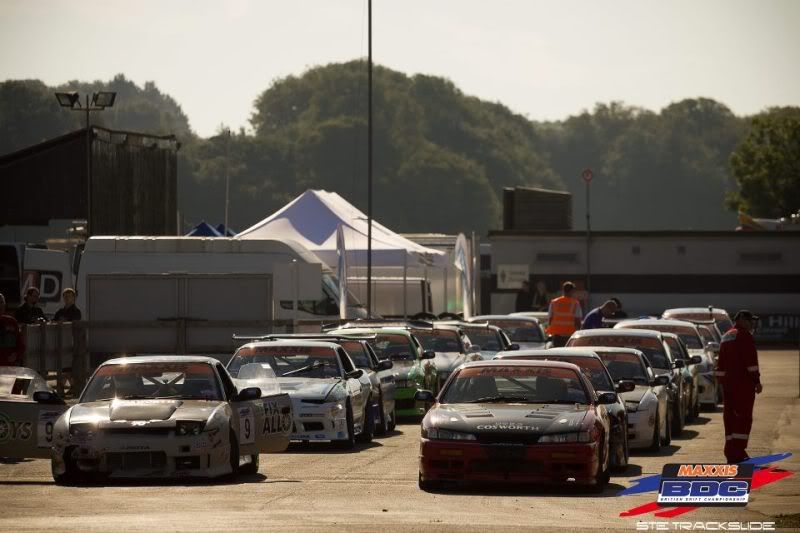 In 2012 I ran in my first British Drift Championship season after gaining my licence at Teesside Autodrome back in 2010. I had never done any competitive driving before but well and truly got the drifting bug following a few of the popular SXOC Crail days which I had attended in my old RB'd s13 (Project thread: HERE)
Having never done anything competitive before I had a quick look over the rules and regulations and started writing a budget for important safety items and race wear. With the help of various SXOC.com member discounts I was able to get a good deal on some Sparco race wear which met the requirements of the championship.
I then decided that the road going car was "too nice" to cage up and was worth more as a whole. So it had to go making way for the drift only s13. The project thread for this can be viewed HERE . The shell I used had a cage already fitted so for the safety side of things a good fire extinguisher and cut off switch was all that was required.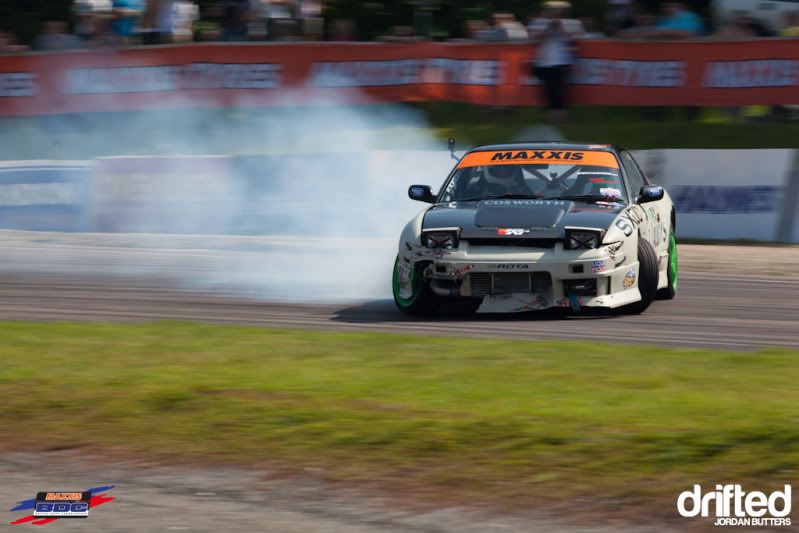 The season started with a jump into the unknown, I had no idea how the days worked, whether my car would make it through scrutineering or whether I was actually any good. To make things worse Round 1 was held 7 days before my final year uni dissertation hand in! The car passed fine, the day was well organised and everyone was friendly and on hand to give advice. Practice was limited compared to the previous drift days I had attended but this was more than made up for in the fact that I could twin, something I had never done before prior to the BDC. All in all it was a superb welcome to the championship and looking back I don't know what I was worried about.
There were two rounds this year on familiar turf at Teesside Autodrome, which I though I would be a huge advantage. Sadly however the weather was typical of the North East, leading to heavy rain and hail! This led to tight qualifying battles that I failed to succeed in on both accounts.
Promisingly however I managed to secure a sponsor along the way, which helped me achieve an 11th place qualification at Norfolk, 5th place at Lydden Hill and a qualification result of 2nd at Knockhill, these results coincided with the progression of the championship and the development of my car / ability. There were some minor boost / brake issues that needed "ironing" out, but other than that the trusty SR20det was unbelievably reliable.
Video from Knockhill (Round 5) of the British Drift Championship:
Highlight of the year was the team triple event at Teesside. For me, this was basically a fun day to showcase drifting and get some much desired seat time. It was awesome, tagging onto team Taysilla with Adam Simmons and Laura 'Lozza' Hinks. This
was by far the most enjoyable time I've had in the car and was a turning point for me personally with how much commitment I wanted to put into drifting.
Video from (Teesside Autodrome) team triple event of the British Drift Championship:
So, my advice for anybody looking to take the leap into competitive drifting, do it! As far as motorsport is concerned it's the cheapest and most fun around, there's a huge social network surrounding it and it can be done on a budget, trust me.
I would just like to thank all who helped to make it such a memorable year, friends who followed me throughout and especially Chris and Cee from wefixalloys.co.uk for all their help and support.
I will hopefully be competing next year with added v8 power and potentially a team if anyone else dares join me? ;). Of course sponsors are always welcome too and would be a great boost to help me become competitive in 2013.
To find out more on my 2013 car please have a look at the latest project thread HERE.
Regards,
Ian Rutherford (Ian200sx)