Feature
So after years of the Dorset and Hants area of the sxoc being somewhat dead, we as a club finally pulled together to make this the biggest and best event the area has seen for many years.
It took months of preparation, many pm's and contacting people through friends and social media and the end result was very rewarding.
Simply Japanese is an annual event held at Beaulieu that is growing each year!
Some of the clubs involved include Dorset modified car club, RX8 Owners club, Just jap car club, Nissan sports, Subaru impreza owners club, Skyline owners and many more.
SXOC stand had an impressive 21 cars on show, with a couple R32's and an R34, an Mr2, Starlet Glanza and Dannyboi's Mazda.
We are looking to make next year's event even bigger than this year as it isn't just a car show it is a great family day out!
I would like to take this oppurtunity to say a massive thank you to everyone that made the effort to make this such a good event, especially to the people that travelled from other areas even with all the trouble they encountered on the journey (Overnutter)
Rich – aka pointz, Dorset and Hants Rep
For the first time this year SXOC had a stand at the Festival of Classic and Sports cars which is held every year at Helmingham Hall just north of Ipswich. There are a wide range of cars on show both on club stands and as individual exhibits. Other clubs included Pistonheads, Jag XK Enthusiasts Club, Mustang Owners Club and BMW OC. If you add to this the individual exhibits which included a Ferrari 458, Old School Fords, a Vintage Bentley and a few Nobles it made for a very interesting show.
The club made a good effort with 5 S Bodies on show and also showed off our new flags, hopefully in the future the attendance from members will grow as this has the potential to be one of the club"s main attractions.
What makes this show a little different from the other static shows is that they have a Concours area but twice during the day the owners get to show their pride and joy off, by driving it up and down the main drive of the hall which is around 200m long. This breaks the day up nicely and is a great photo opportunity.
We are already looking forward to 2015 and hopefully the club will have a bigger stand. One last thing, the pulled pork burgers are to die for, but you need to get in early 😉
All photos are used with the kind permission of www.markwardmedia.co.uk
Bren started Apex Performance over 10 years ago and was one of the first companies to offer affordable parts to the 200sx owner like Intercooler kits, Exhaust Manifolds and Coilovers. They are now the official UK distributer for Ksport and BC
Racing amongst others and now cater for all makes and models of car but still keeping the 200sx close to their hearts
Bren and Apex have been very active members of the club over the years donating prizes to charity raffles and offering assistance at events like TOTB. They previously entered 2 yellow S13s into Time Attack as well as a V8 R33 in EDC where it finished 2nd in 2008.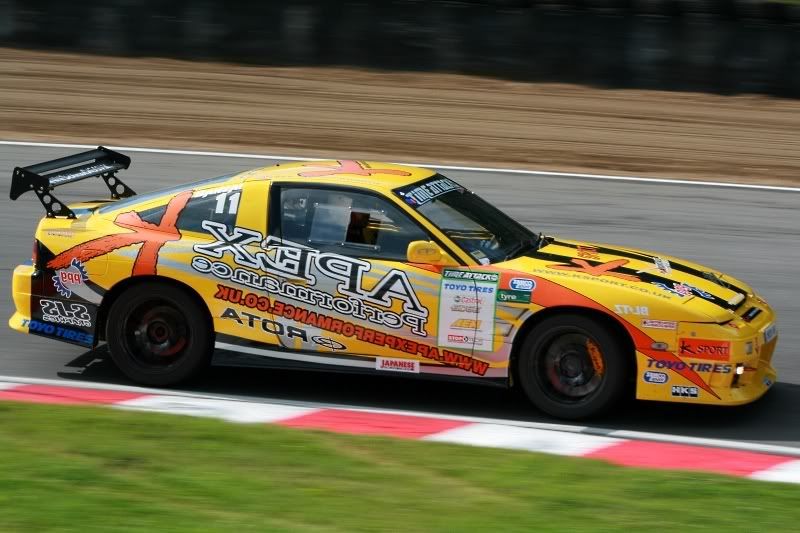 You can contact Bren and the Apex team on 01274 683633 or their forum section http://www.sxoc.com/vbb/forumdisplay.php?30-Apex-Performance-Parts
Alternatively check out their sites
http://www.apex-performance.co.uk/
So the weekend that was. After the success of previous Weekenders there were some big shoes to fill to ensure the ongoing success and growth of the event. This year we were at the fabulous Anglesey race track in North Wales. The weather in the run up to the weekend was great and didn"t disappoint when we invaded.
After the frivolities of Friday night arrival and a quiet drink, we awoke to glorious sunshine on Saturday morning. As the cars lined up for their sighting laps, we were GO!!!!
The day passed almost entirely without incident on track and everyone, novice and track veteran alike, had a great day. Few notable highlights were Ken trying to set fire to his car (a power steering fluid leak dealt with quickly and expediently by the marshals) and Anthony Rickson (aka Giblets), in his mental Westfield, trying to kill the yours truly!!! Other track antics to note were a certain black S14a who had obvious "issues with grip" as he spent a large portion of the day sideways with smoke billowing off his tyres, and a certain MR2 driven by what we can only assume was a blind hooligan. But most importantly everyone had a ball and the marshals were delighted by the driving standard and track etiquette.
That leads us onto the Saturday night. First off , the team competitions. Algie had organised it"s a knockout style competition for some prizes. As usual everyone got into the spirit of the evenings entertainment and got stuck in. Later in the evening in true SXOC fashion, we partied and we partied hard. Smoke machine, laser show, cocktail bar, live DJ set, naked dancing, streakers and general banter. Everyone had a ball, got involved and had a laugh.
Sunday morning/afternoon and it"s chillout time Sundays are always seen as a relaxed slower paced day and with the beautiful scenery and sunshine everyone was in great spirits and had a smile on online slots their face (or maybe still a little drunk??). As usual we had our charity raffle on the Sunday, which raised £570 for race to recovery. This was only made possible by the generous support of our traders and all those who donated prizes which could only be matched by the generosity of the members who bought tickets.
For those who travelled farthest
or have been doing this longest the traditional Sunday nights are a good time to catch up and chill out to a camp fire and some music. The usual suspects (and antics) ensued and it capped off a memorable weekend. We all headed home on Monday with some epic memories of a smashing track, a fabulous track day and as usual night time activities, which always leave an indelible impression. If you don"t mark 2014″s event on your calendar as a must do, you"re an idiot! See you there!!!
Thanks to all who helped make this happen and to my lovely wife for all her help and support!!!!
The honours
Trophies went to…
Best S Body awards
1. Mapboy for his stunning Sil80 – The attention to detail!
2. LED Sandwich for his beautifully turned out RS13 200SX
3. Jon for his daily driven 210k S14. A real testament to the marques durability and how to make it work for you.
Best Non-S Body Award
Giblets" Westfield
Chairman"s
Choice
Clive"s V8 powered S14 drift car
Court Jester
Legendary Giblets for outrageous drunken behaviour in the face of common sense
Stig Of The Weekend
Kieran O"Quick for pushing his almost standard S14a to its limit all day.
Full features on all the trophy cars coming very soon to these pages!